Aged, prime cut meats, the freshest seafood, and inspiring food artistry are only the beginning at Tucson's finest steakhouse, bar none. This is PY Steakhouse at Casino Del Sol. Extraordinary service with the ambiance to match, the Pascua Yaqui Tribe welcomes you to its signature dining experience. The wine list features more than one thousand choices from our cellars, many unique in origin, including a select few from Arizona's finest vintners.
A separate, private dining room features wine-cellar décor and is available for special events and gatherings. Just outside the main dining room, the PY Bar welcomes guests with classic and signature cocktails created by our own master mixologists. It's an intimate location to sit and ponder the day's events or dream of the night's promise.
Reservations suggested. Ask our concierge or call 1.855.765.7829.


 
Hours & Location
Monday          CLOSED
Tuesday         4PM – 10PM
Wednesday    4PM – 10PM
Thursday        4PM – 10PM
Friday             4PM – 11PM
Saturday         4PM – 11PM
Sunday           CLOSED
---

PY Concert Hours
Open 4PM - 8PM
8/25 Outlaws & Renegades - Travis Tritt, The Charlie Daniels Band
9/15 Dinner With Chefs, Laura Williamson 6:30PM
11/10 Toby Keith
 
Chefs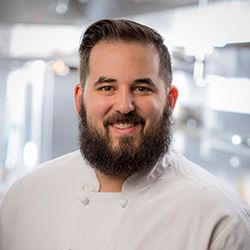 Chef Roderick Le Desma - PY Steakhouse
Chef Le Desma started working in restaurants at age 16. However, his love for cooking developed early on when his mother taught him to cook at a young age. Growing up on old cooking shows and cookbooks, he found himself constantly in the kitchen. He attended the University of Arizona, thinking going to college was what he was "supposed to do", but never felt like it was right for him. He left to attend the Art institute of Tucson, during which time he started working at Primo at the JW Marriott Starr Pass. Quickly moving up the ranks, he was asked by James Beard award-winning Chef Melissa Kelly, to join the team at Primo in Rockland, Maine. After his experience there, he returned to Tucson, taking over as Chef de Cuisine back at the Primo, JW Marriott. After three years at the helm of the kitchen there, he joined the team at Casino Del Sol as Chef de Cuisine of PY Steakhouse.
PY Steakhouse Chef de Cuisine Roderick LeDesma Wins Knife Fight 2018 >>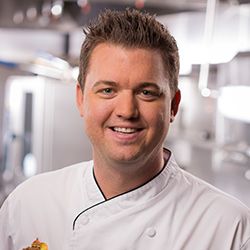 Chef Ryan Clark - Casino Del Sol
Tucson native and Casino Del Sol Executive Chef, Ryan Clark has a wealth of experience in the food and beverage industry. He graduated top of his class at the Culinary Institute of America in Hyde Park, New York, and was named one of the Top Sixteen Junior Chefs in the U.S. by the American Culinary Foundation. Clark has been nominated for Tucson Weekly's Best Chef and holds the rare distinction of being named Iron Chef Tucson for three consecutive years. Chef Clark has also been nominated by Food and Wine Magazine as one of the Best New Chefs in the Southwest. He's a Certified Executive Chef and member of the American Culinary Federation. Chef Clark is the author of Modern Southwest Cooking, a cookbook that showcases his passion for regional cooking and local ingredients.