Do you have a sweet tooth? Join us at SweetScape Desserts for our scratch made donuts, gelatos, desserts, pastries and beverages. Every morning our pastry team makes fresh donuts and churns handmade gelato from scratch. Taste the freshness of breakfast sandwiches, croissants and bagels made fresh every day. Our signature milkshakes and sundaes are sure to please with our secret gelato recipes.
Hours
Monday 7AM – 11PM
Tuesday 7AM – 11PM
Wednesday 7AM – 11PM
Thursday 7AM – 11PM
Friday 7AM – 11PM
Saturday 7AM – 11PM
Sunday 7AM – 11PM
Executive Pastry Chef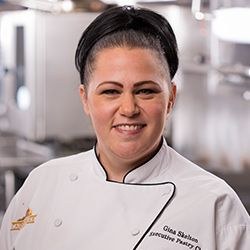 Chef Gina Skelton - Casino Del Sol
Chef Gina Skelton has 21 years of experience in the culinary industry. She earned her culinary degree from Le Cordon Bleu Culinary Institute in Scottsdale, Arizona.
She has been the Executive Pastry Chef of Casino Del Sol since August 2015, and focuses her attention on creating everything from intricate specialized desserts for PY Steakhouse to beautifully built desserts for large-scale events held in the convention center. Chef Skelton originally joined the culinary team at Casino Del Sol in 2005 as Sous Chef at Bellissimo restaurant. She quickly advanced to Chef de Cuisine working daily on everything from butchering, to pastries in the high-end restaurant. With the closing of Bellissimo in 2010 to make way for the new convention center and hotel, Chef Skelton took the opportunity to further her career by focusing specifically on the fine art of baking and pastries. She then moved on to a new position as Pastry Chef for the James Beard, award-winning chef, Janos Wilder. There Chef Skelton oversaw baking and pastry production for three restaurants including JBar, Downtown Kitchen & Cocktails, and the award-winning restaurant Janos.
In her current role, Chef Skelton oversees the day-to-day operations of the bake shop, which provides baked goods for the nine event spaces, restaurants and eateries.